Advance Liveclass on Mastering Contracts & Corporate Drafting in the Indian Arena
5 Power-Packed Sessions of Holistic and Practical Learning in Contracts & Corporate Drafting
In the fast-paced Indian corporate world, the ability to draft rock-solid contracts is an invaluable skill. "Mastering Contracts & Corporate Drafting in the Indian Arena" is an advanced live class designed to equip you with the knowledge, strategies, and insights required to excel in the world of corporate contracts.
Our seasoned legal experts, Adv. Arpit Guru and Adv. Purvi Kimtee will take you on a journey through the intricacies of contract law, M&A agreements, governance documents, NCLT proceedings, securities law, and much more, all while focusing on the unique aspects of the Indian market.
This course is an A-Z guide on the framework and practical aspects of Contracts & Corporate Drafting in the Indian Arena
Paid Registration of Rs. 1299/-
Providing a substantial validation to your learning, which aids learners in understanding subjects in a planned and effective way, LedX certificates are provided with a unique QR code that identifies the certificate's transparency.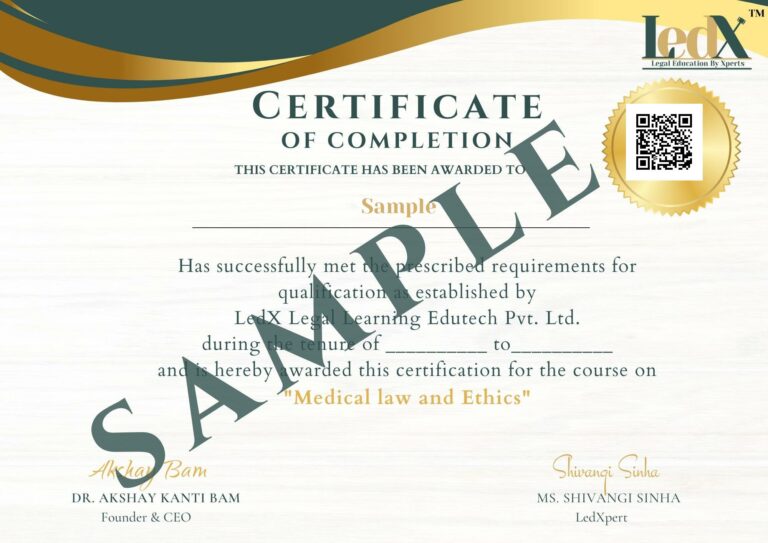 Module 1 :
Introduction
- Introduction to the Series
- Overview of Contract Law in India
- Importance of Corporate Drafting
- Role of Contracts in Business
Module 2 :Formation & Governance Documents
- Business Entities in India (LLP, Pvt Ltd, Public Ltd, etc.)
- Memorandum and Articles of Association
- Statutory Compliance & Registrar of Companies (ROC)
- Drafting Company Bylaws
- Shareholder Agreements
- Board Resolutions and Minutes
Module 3 : NCLT (National Company Law Tribunal)
- Understanding the NCLT
- Corporate Insolvency and Bankruptcy Code (CIBC)
- NCLT Proceedings and Case Studies
- Drafting Petitions and Applications
- NCLT Orders and Compliance
- Role of Liquidators
Module 4: Mergers & Acquisitions
- M&A Landscape in India
- Due Diligence in M&A Transactions
- Legal Aspects of Merger & Acquisition Agreements
- Regulatory Approvals and Compliance
- Case Studies on Successful M&A Deals in India
Module 5: Securities & Investment Contracts + Misc.
- Securities Law in India (SEBI Regulations)
- IPOs and Stock Exchange Listing
- Drafting Share Purchase Agreements
- Investment Contracts (VC, PE, Angel Investments)
- Miscellaneous Contracts (NDA, Employment Contracts, etc.)
- Legal Tech Tools for Corporate Drafting

Day 1
Day 2
Day 3
Day 4
Day 5
Day 1
Introduction
-Introduction to the Series
– Overview of Contract Law in India
– Importance of Corporate Drafting
– Role of Contracts in Business
Day 2
Day 3
Day 4
Day 5